Welcome Card Makers! I am so happy you dropped by today. It is time for another Twist of Faith Weekly Card Challenge.
Welcome to Challenge #20 .... Our sponsor this week is a new member of our family here at Twist of Faith. We are so very fortunate to welcome Melonheadz!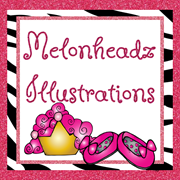 Melonheadz
images are a fun and whimsical style, handrawn by Nikki. At the
Melonheadz Blog
you newly released sets which you can purchase at the
Melonheadz etsy store
, and a staggering selection of freebies available to you .... pop along to the
Melonheadz
blog and see what you might find! At
Melonheadz Exclusives
you will find exclusive sets, and previous freebie bundles. At
Melonheadz LDS you will find
LDS and Christian illustrations,
primary hand outs, and soon will have
some items for purchasing as well.
This week's challenge is:
Here is my creation using the Policeman image
This is in honor of my husband Rick, a retired Polic

e Officer
"The one thing I ask of the Lord -- the thing I seek most
is to live in the house of the Lord all the days of my life,
delighting in the Lord's perfections and meditating in His temple."
Psalm 27:4 NLV
I hope you will join me this week by entering your card creation in our challenge - at Twist of Faith!
My Card RECIPE
*Kraft Cardstock
*Scraps of sparkly rough feeling blue ribbon
*Scrap of blue Polk-a-dot cardstock for the mat
*Policeman Digital Stamp (pre-colored) Melonheadz (new)
*Digital Wording created by me in Word and merged with the digital stamp
CHALLENGES
Ends Jan 15 Papertake Weekly Anything New digital stamp
Ends Jan 17 Stampin Dragon - Anything goes unlimited
Ends Jan 20 The Kraft Journal - use scraps - unlimited
Ends Jan 20 Cards for Men - Men at work (a new challenge blog

to

me)
Ends Jan 20 Pause Dream Enjoy - Ribbons - unlimited
Ends Jan 31 Pin and Tack - Spark your Creativity Now - CH#5 anything goes unlimited