DDC#67- "Use a Doily" Featured Card of the Week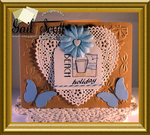 Let's get started with our Featured Card of the Week! Every week you surprise us and make this a tough decision and we can only choose one of you! The card of the Week goes to ... GAIL SCOTT!
Thank you so much for joining us and you've won yourself a free image! Have a peek at Digi Darla Designs and email Karen at digidarladesigns@rogers.com with your choice! Congrats and happy shopping!